87 Annual
XIT RODEO & REUNION
August 3rd – 5th 2023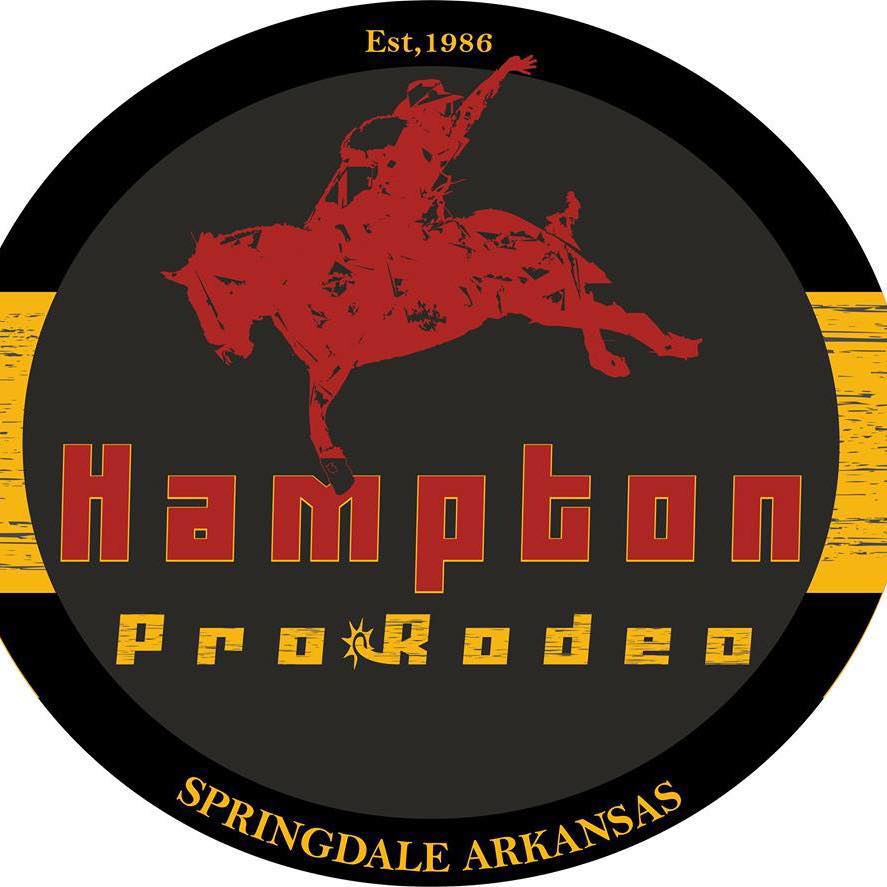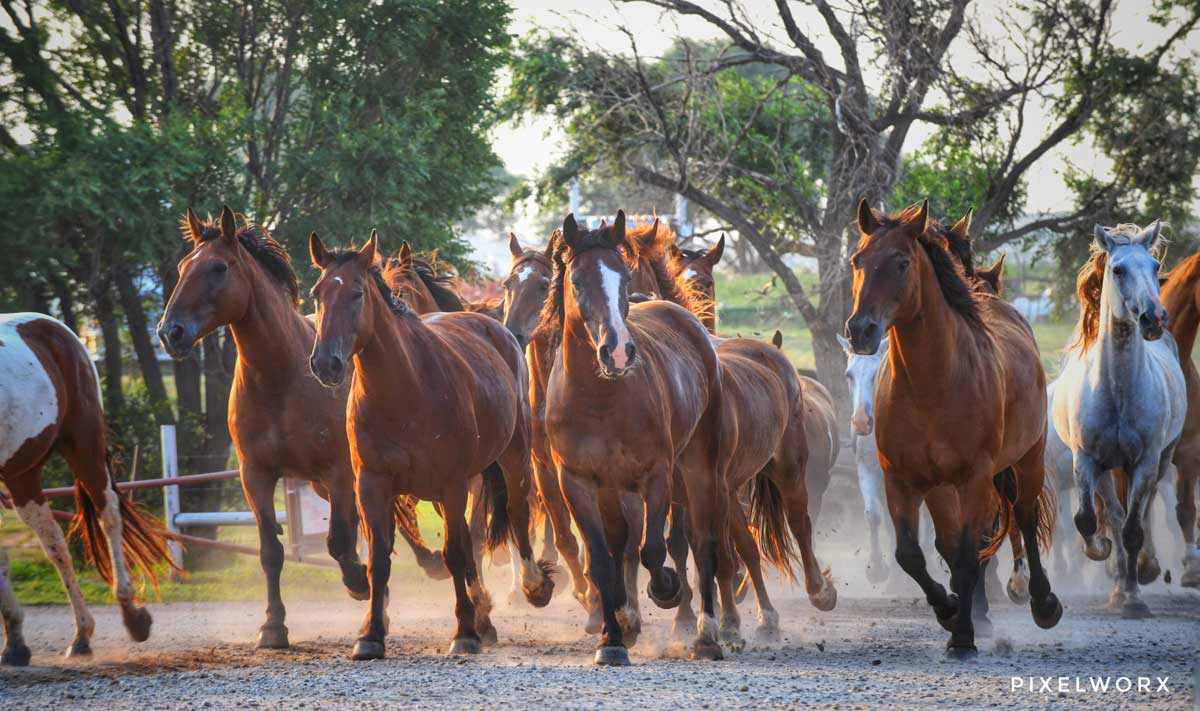 Hampton Pro Rodeo
Kevin Hampton was fresh out of high school in when his stock contracting business began to take flight. He grew up roping calves and steers and built a small indoor arena to practice in, but before long, he was hosting small jackpots and rodeos there. Having no bucking stock of his own, he hired a local stock contractor to put on the rodeos. In a series of events that followed Hampton found himself holding the reins to his own stock contracting business and he hasn't looked back since. Hampton began booking rodeos regionally and became a member of the International Professional Rodeo Association. His rodeos gained recognition by rough stock cowboys who liked his stock and timed event cowboys who appreciated the time and effort Hampton put into keeping even sets of timed event cattle. Hampton Rodeo has had much success within the rodeo industry having won awards too numerous to mention individually. In 1998 Hampton was recognized as IPRA's Stock Contractor of the Year which is a title that he has now been awarded a record 21 times. The rest of the stats can speak for themselves: 21 Bucking Stock of the Year Winners, which include 3 Bareback Horse Titles, 7 Saddle Bronc Horse Titles and 11 Bucking Bull of the Year Titles. Hampton animal athletes have also brought home Bucking Stock of the IFR awards 12 times over the Years. The most prolific of these animals is a Saddle Bronc Horse named "Drama Queen" fire branded #134 who herself alone is credited with 6 of the aforementioned awards. Aside from the animals, Hampton also prides himself in hiring quality personnel and putting on a fast paced, family oriented show.
Rodeo runs deep in the Hampton Household. Wife Gina is a former competitor and also a former Miss Rodeo Arkansas who traded a saddle for the announcer's stand and became IPRA 's Rodeo Secretary of the Year a record 18 times and secretaried 4 IFR's. The Hampton's have two son's who are also heavily involved with rodeo. K.L. (25) is a PharmD student with one year left in pharmacy school and has a passion for bucking bulls. Jay (20) is an undergraduate student at UARK majoring in Poultry Science who has established his own set of bucking mares and is focused on raising the next generation of Hampton Pro Rodeo's equine athlete's.
In 2019 the Hampton's embarked on a lifelong goal and joined the PRCA. With 33 years experience in the Rodeo Business they may be new to PRCA but are NOT new to Rodeo. Hampton Pro Rodeo is ready to RIDE ON into the future!
Kelly Kenney, PRCA announcer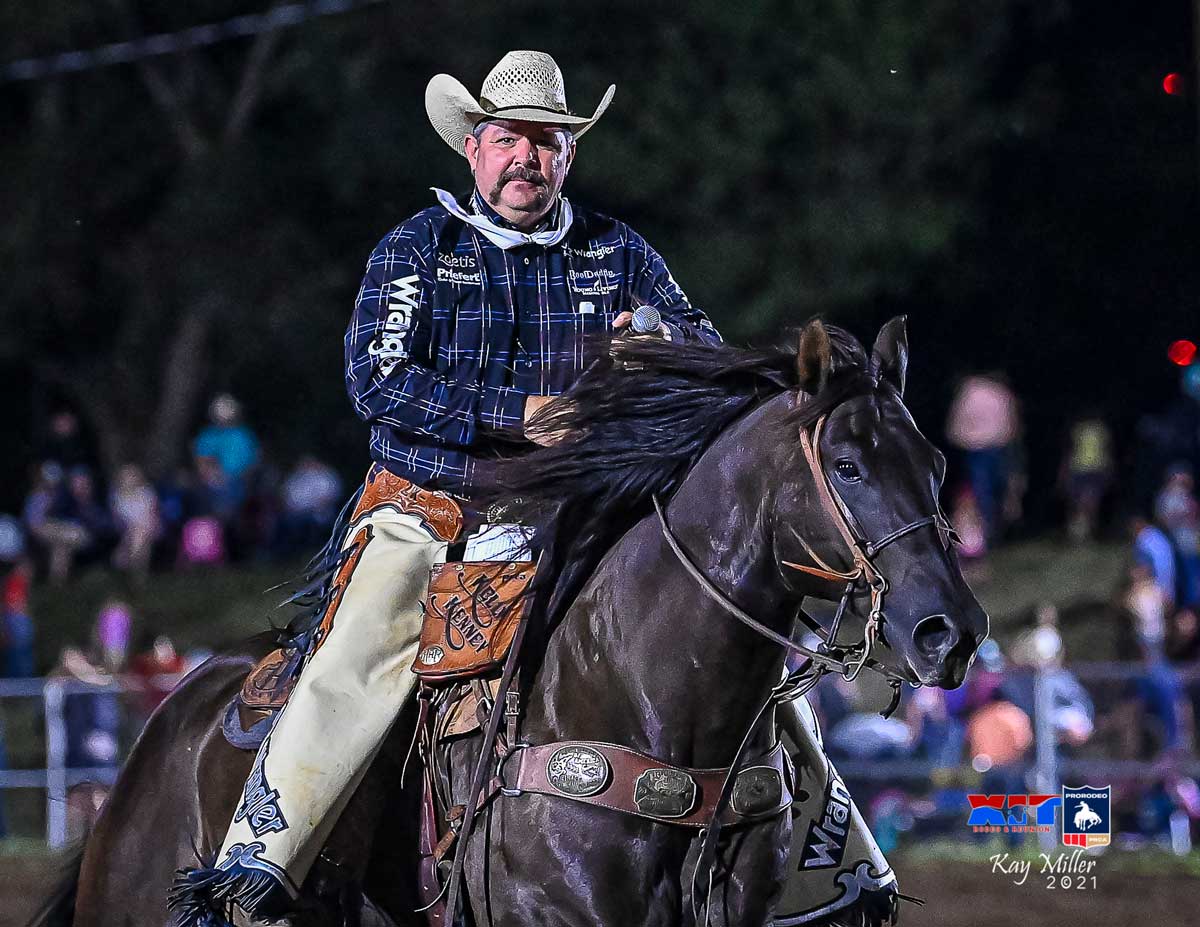 Kenney comes from very humble beginnings, born and raised in small town, USA, in southwest Missouri. With hard working, loving parents and two older brothers. Life was very basic, yet exciting and meaningful in this quiet little town of 900 folks.
Kenney credits his parents for allowing his dreams of becoming a cowboy to come true. Kenney says, "Just now I realize how many sacrifices my family made to haul me to all of those high school rodeos. Living off of very little, but I never knew it, I felt I was the richest kid in the world." It all started with a stubborn little sorrel pony. Learning to ride and being tough came at an early ages in his family.
Needless to say Kenney's life was very fast pace from the start, including rodeo, sports and music. He learned to rope, bulldog and play guitar in high school, then went onto college on a rodeo scholarship. Officiating high school and college baseball and basketball, rodeoing, picking and singing consumed his life with very little time to spare. Then accidentally, in 1996 at a rodeo in his home town, the announcer didn't show. He then reluctantly agreed to help. That night in November of '96 Kenney was bit by the entertainment bug.
The next four years of Kenney's life was jammed packed with excitement. Announcing rodeos and competing hard all summer, officiating college baseball in the springtime, calling basketball games all winter and filling every vacancy available with a singing gig. It didn't take long for Kenney to realize his life was being consumed with work and travel, leaving little time for the things he loved at home. His family, hunting, fishing, ranching, etc.
In 2000 he was asked to take the head rodeo coaching position at Missouri Valley College in Marshall, MO. Where he accepted the job in hopes of slowing down and embedding his roots. The next year Kenney was encouraged by his peers, students and family to pursue a career in the field that he had originally started years earlier, announcing rodeos. Kenney received pro status in 2001, resigned from the college in good standings after a very successful season, quit competing, hung up his officiating uniforms and never looked back.
Since 2001 Kenney has had the opportunity to work many great rodeos and with some of pro rodeos most talented acts and entertainers. Kenney gives great credit to those many people along his journey who seen a talent in this small town country boy from Missouri.
Kenney has finally found his home behind the mic. Now Kenney announces PRCA Rodeos full time working approximately 30-40 events each year. With a cow/calf operation at home, Kenney's life remains full of responsibilities. Kenney says, "Now when rodeo season slows down in the fall, I get a chance to hunt most of the winter and pick with band and auctioneer some sales. Most of my cows are fall calvers due to my schedule, which works well. But most importantly, I get to truly enjoy my family."
Kenney's silky smooth baritone, quick wit, down home humor and his ability to connect with an audience has found a home forever in Pro Rodeo.