XIT RODEO & REUNION
August 2 – 4 2018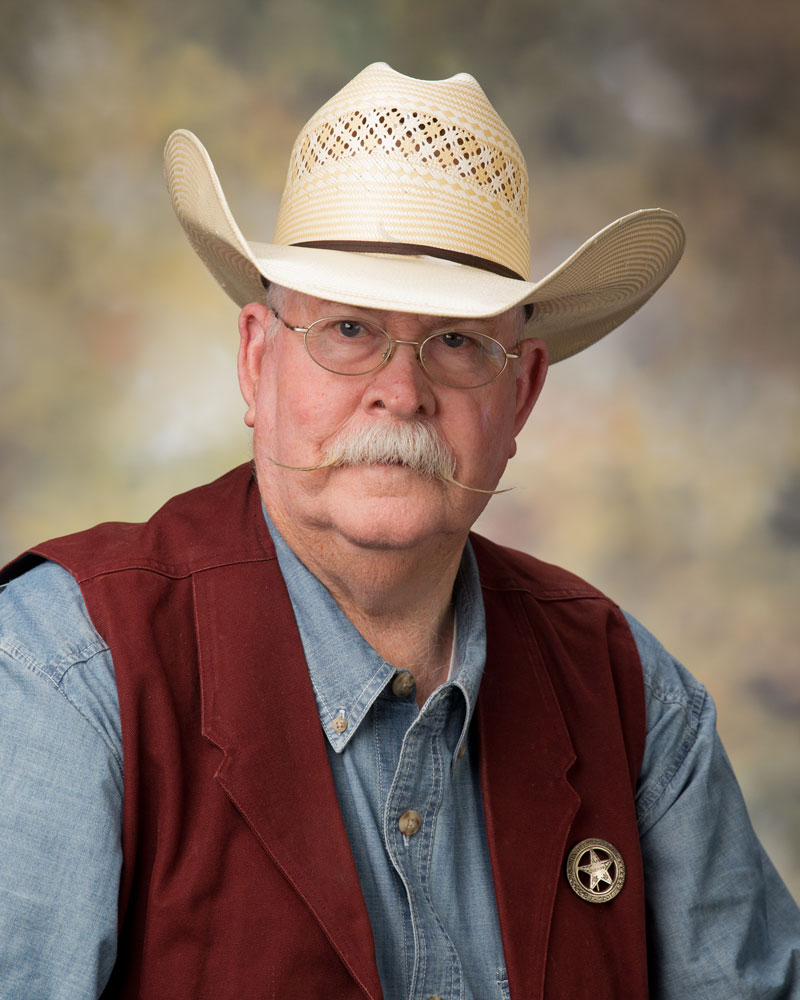 82 nd Annual XIT Parade Marshal
Franky Scott
Franky Scott was born October 28, 1949 in Sweetwater TX. At the age of 2 his family
moved to O'Donnell, Texas where his father would work as Cowboy for Spade Ranch. Spade
Ranch was located out of Colorado City and consisted of 53 sections. Franky remained in
O'Donnell until 1964 where he attended high school as a sophomore. Franky's family then
moved back home to Sweetwater, TX where he would later graduate from high school in 1967.
After graduating high school Franky went on to attend Angelo State University. While in
College Franky was drafted in the Military. He spent 5 months in training before being deployed
to Korea as a combat medic during the Vietnam War. He would serve an additional 13 months
overseas before returning home.
After returning home Franky went back to working and enrolled to go back to college.
He then moved to the panhandle with a friend where he met a young women and decided to
stick around for a while. In 1974 Franky went to the DPS Academy in Austin, Texas and
graduated later that year in October. He would then end up stationed in Hereford, Texas. In
August of 1975 Franky married Nancy who was a school teacher that lived and taught in the
town of Stratford, Texas. Shortly after they moved to Dalhart, Texas.
On April 1, 1976 Franky started his first day of duty in his newly called home of Dalhart.
By May of that year Nancy had given Birth to their first born son. With his family quickly
growing Franky took on addition work to support his family. He cowboyed wheat pasture cattle
for AT Bridgman and even moonlighted for M&S Bodyshop. It wasn't long before Franky and
Nancy brought two more baby boys into this world. As the boys all grew older Franky started a
mowing business for the boys to start making some money. The family were regular church
goers and Franky was a Deacon for the First Baptist Church, where he also taught Sunday
school.
In 2000 Franky was asked to take on the role as Sheriff and finish the term for the
current Sheriff at that time. He had intended on running for Sheriff at the next election. In
2001 he started his first official term as Sheriff and has been in that role since. Franky has
spent his career serving and protecting the town of Dalhart and its people. He exhibits great
strength and leadership and is a role model to the community.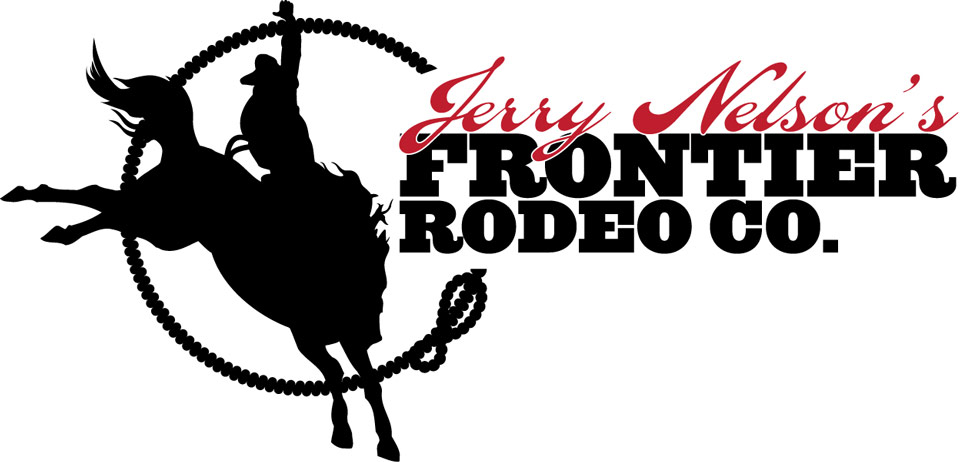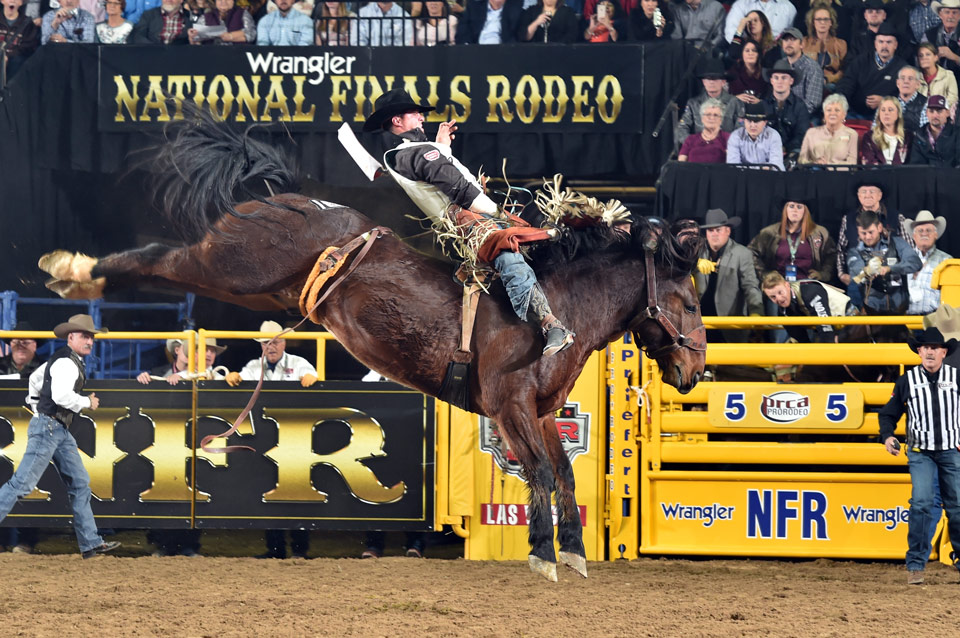 Frontier Rodeo Company
Jerry Nelson's Frontier Rodeo Company was established in 1991 and is based in Freedom, Oklahoma on approximately 9,000 acres, with 400 head of bucking horses, 70 rodeo bulls and 350 head of commercial cows. Frontier Rodeo Co. is owned by Jerry Nelson. Our Rodeo Manager is Heath Stewart and General Manager is 8X PRCA Bull Riding World Champion and Pro Rodeo Hall-of-Famer Don Gay. Nelson makes his home in Winnie, TX where he owns and operates Maverick International, Inc. He has owned a plethora of championship bucking bulls and horses over his long career in the rodeo/bull riding business. Stewart has been with Frontier since 2005 and lives in Freedom, where he manages the ranch and rodeo business. Gay resides in Terrell, Texas. He's been with Frontier for 12 years and is in charge of public relations, commentating events and is also Jerry's pilot. Frontier took its first animal to the National Finals Rodeo in 2005. They had one saddle bronc horse, Linda Lou, nominated that year. In 2017 they took 22 head of livestock to Las Vegas for the NFR. Frontier Rodeo Company has been awarded PRCA Stock Contractor of the Year and is proud to provide livestock to rodeos across the country. We are honored to work with our great rodeo committees in keeping the Western heritage alive.
Among the achievements of Frontier Rodeo and its livestock are:
-3X PRCA Stock Contractor of the Year (2015-2016-2017)
-4X PRCA Saddle Bronc Horse of the Year (Medicine Woman 2011-2014-2015-2016)
-2X PRCA Bareback Horse of the Year (Full Baggage 2011 & 2013)
-2013 PRCA Saddle Bronc Horse of the Year (Maple Leaf)
-PRCA Remuda Award (2012 & 2016)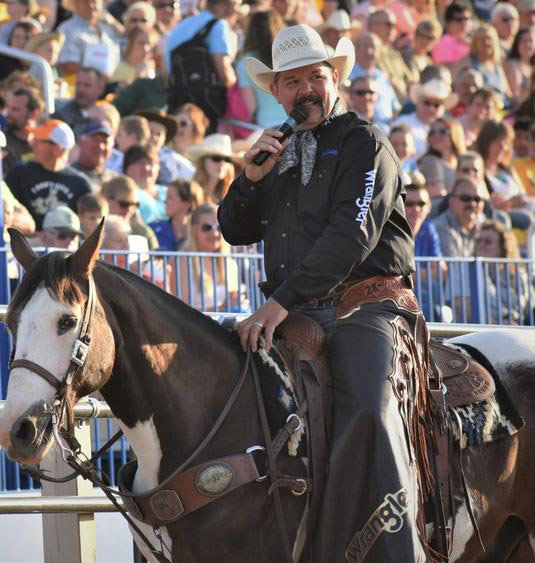 Kelly Kenney, PRCA announcer
Kenney comes from very humble beginnings, born and raised in small town, USA, in southwest Missouri. With hard working, loving parents and two older brothers. Life was very basic, yet exciting and meaningful in this quiet little town of 900 folks.
Kenney credits his parents for allowing his dreams of becoming a cowboy to come true. Kenney says, "Just now I realize how many sacrifices my family made to haul me to all of those high school rodeos. Living off of very little, but I never knew it, I felt I was the richest kid in the world." It all started with a stubborn little sorrel pony. Learning to ride and being tough came at an early ages in his family.
Needless to say Kenney's life was very fast pace from the start, including rodeo, sports and music. He learned to rope, bulldog and play guitar in high school, then went onto college on a rodeo scholarship. Officiating high school and college baseball and basketball, rodeoing, picking and singing consumed his life with very little time to spare. Then accidentally, in 1996 at a rodeo in his home town, the announcer didn't show. He then reluctantly agreed to help. That night in November of '96 Kenney was bit by the entertainment bug.
The next four years of Kenney's life was jammed packed with excitement. Announcing rodeos and competing hard all summer, officiating college baseball in the springtime, calling basketball games all winter and filling every vacancy available with a singing gig. It didn't take long for Kenney to realize his life was being consumed with work and travel, leaving little time for the things he loved at home. His family, hunting, fishing, ranching, etc.
In 2000 he was asked to take the head rodeo coaching position at Missouri Valley College in Marshall, MO. Where he accepted the job in hopes of slowing down and embedding his roots. The next year Kenney was encouraged by his peers, students and family to pursue a career in the field that he had originally started years earlier, announcing rodeos. Kenney received pro status in 2001, resigned from the college in good standings after a very successful season, quit competing, hung up his officiating uniforms and never looked back.
Since 2001 Kenney has had the opportunity to work many great rodeos and with some of pro rodeos most talented acts and entertainers. Kenney gives great credit to those many people along his journey who seen a talent in this small town country boy from Missouri.
Kenney has finally found his home behind the mic. Now Kenney announces PRCA Rodeos full time working approximately 30-40 events each year. With a cow/calf operation at home, Kenney's life remains full of responsibilities. Kenney says, "Now when rodeo season slows down in the fall, I get a chance to hunt most of the winter and pick with band and auctioneer some sales. Most of my cows are fall calvers due to my schedule, which works well. But most importantly, I get to truly enjoy my family."
Kenney's silky smooth baritone, quick wit, down home humor and his ability to connect with an audience has found a home forever in Pro Rodeo.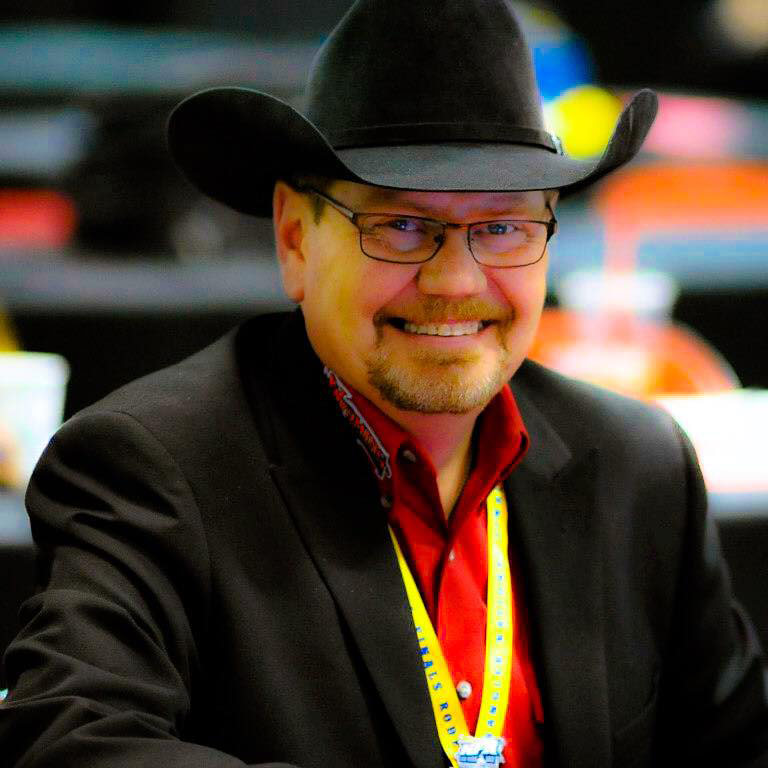 Derek Barton, Sound Man Extraordinaire
Derek Barton is a Wyoming native and was raised on a ranch in Buffalo Wyoming. He grew up around cattle, horses and rodeo all of his life. Derek was a radio broadcaster for over 30 years and progressed into rodeo announcing in the late 80's.
Derek is a PRCA(Professional Rodeo Cowboy's Association) Gold Card member and has announced rodeo all over the country. He is also a sound and music director for many major rodeos and does about approx.25 shows a year. Derek has taken his radio and rodeo background to the next level and is now owner and host of a world-wide radio and internet show, called Talk Rodeo. The show runs 5 days a week, year round and features interviews with the biggest names in rodeo. He has also been the internet broadcaster for the Wrangler National Finals Rodeo at the 50th Anniversary of the WNFR!! On top of all that, he works the media room every year at the WNFR, talking with all of the nightly winners and World Champions, he produces shows for all 10 rounds of the WNFR and is a frequent host and master of ceremony and music and production for major events during the Wrangler National Finals Rodeo. Derek is moved to Guymon Ok at the end of September 2017 and took over as General Manager for KGYN Radio. He has now moved to Goodwell Oklahoma and it the "Voice of the Aggies" for Oklahoma Panhandle State University Athletics.
In his down time, he likes to sing and write music, he has 2 grown daughters, and he is a proud Grandpa to 3 Grandsons and 2 Grand Daughters.
Lastly Derek Thanks God every day for allowing him to continue on this path in life and is Thankful for every day he has had. He knows life can throw a lot of surprises at you, as he was diagnosed with Stage 4 Colon Cancer back in 2007 and feels very lucky to still be here and knows God still has a plan for him.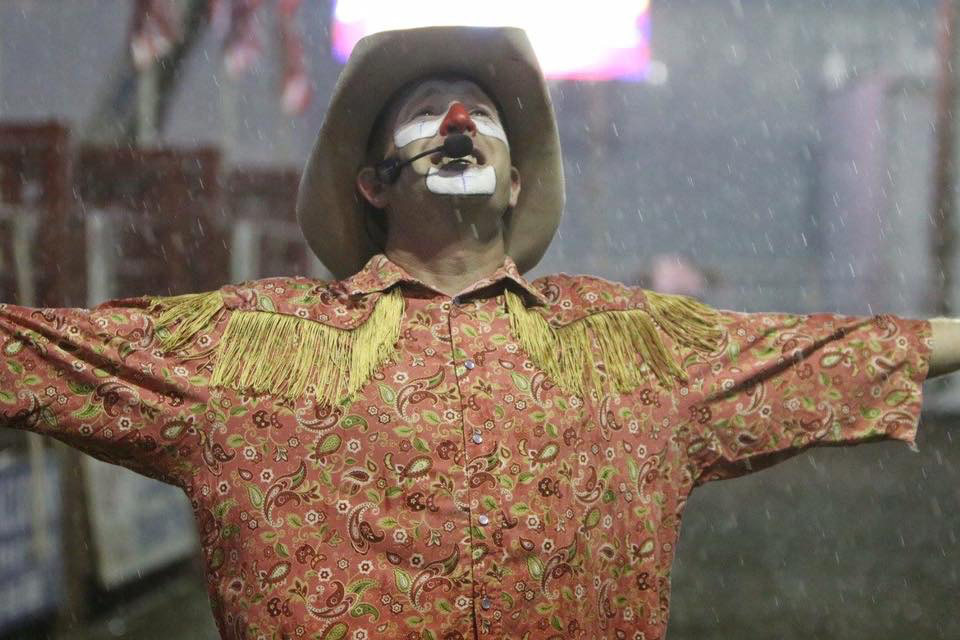 Hippie Engelkes, PRCA Rodeo Clown
At the edge of your seat, you are dialed in for professional rodeo action.  AND… it doesn't stop there. With nonstop, high energized improv comedy, you won't leave the show unentertained.
For thirteen years, Hippie Engelkes has brought quality family entertainment to crowds in and out of the arena.   He began his career riding bulls in '97, and it was in 2001 that he took what got him sent to the principals office and found away to make a living at it.  For the next few years, Hippie would clown, fight bulls, and ride bulls before deciding to stick strictly with the entertainment aspect. It was 2008 that his clowning career would move to the next level, Since that time he has been entertaining crowds across the United States at PRCA rodeos and CBR and PBR bull riding events.
So fasten your seat belt, stretch your smile, and get ready for rodeo and comedy at its best.  Can't wait to see you down the rodeo trail and enjoy a good laugh.